Dear all ,
As most of you are aware I was away in Istanbul, Turkey in connection with the last shooting schedule of my  forthcoming film Tere Aane Se. This was my maiden visit to Turkey and I had an exhilarating experience. We shot at exotic locales.   The locals too were extremely warm and friendly.Antaliya, an hour's flight from Istanbul was  breathtaking and we were fortunate to shoot in this beautiful place for 5 full days.   I would strongly recommend  Antaliya as a holiday destination. I am certainly revisiting the place with my family. I am also sharing a few pictures for all of you to enjoy….

In continuation of the Anniversary celebrations by fans, Sahil, a very devoted fan of Hiten-Gauri celebrates in his unique way. Like every occasion related to Hiten-Gauri and Nevaan-Katya, their anniversary too has been marked in a special, grand way by Sahil:

As our beloved, most dignified and charismatic couple in showbizz Hiten and Gauri celebrate 9 years of their joyful union, we at Indiatvforum.net celebrate it in grand style. A whole edition of the web magazine, Captured has been dedicated to them to commemorate the occassion.

To join in the full celebrations log in onto the following link. Here you will find the link to the magazine, which incluldes an extensive interview with Hiten providing a facet into their relationship in a way not seen before. Additionally, hear Hiten accept Anniversary wishes. All here in this very link:

http://www.indiatvforum.net/forum/viewtopic.php?f=4&t=40107
Hello everyone ,
Once again I am sorry for not being regular here as much as I should be:)
Life has been busy and going good…. both on the personal and professional front.
On the personal side of things…..
The kids are growing up ….and real fast and any little free time I manage, I want to spend with my little prince Neevan and little princess Katya.
As you all already know our family went away on a short, enjoyable and very relaxing break, end of April.
Coming to the professional front….
I feel fairly satisfied that Manav Deshmukh has been accepted well and all you are enjoying me in the show. I do understand some of you are not very happy with my look there but since Manav is a self made man with a humble background I chose to be seen in this fashion.
Since there has been a demand to see me as a young business man ,all of you must have also seen Jatin Chopra of Kya Hua Tera vaada . As of now it is a cameo role and I will keep you updated if there are any changes.
Another news that I would like to share is my trip to Jo'Burg and Durban in South Africa on 9th June. All of you got the news of this trip even before I confirmed it ;).
I will try to click some snaps and share them with you on my return.
Thank you all once again for your unstinted support and love . I am truly blessed to have you all in my life .
Hoping to see all your good wishes and stay tuned to www.gauri-hiten.net for regular updates…..
Cheers!!!
Hiten

As our special, 'made in heaven' couple Hiten and Gauri go into their 8th year of wedded bliss, we at Indiatvforum.net commemorate it in our way firstly in the form of a writeup; their association penned down succinctly: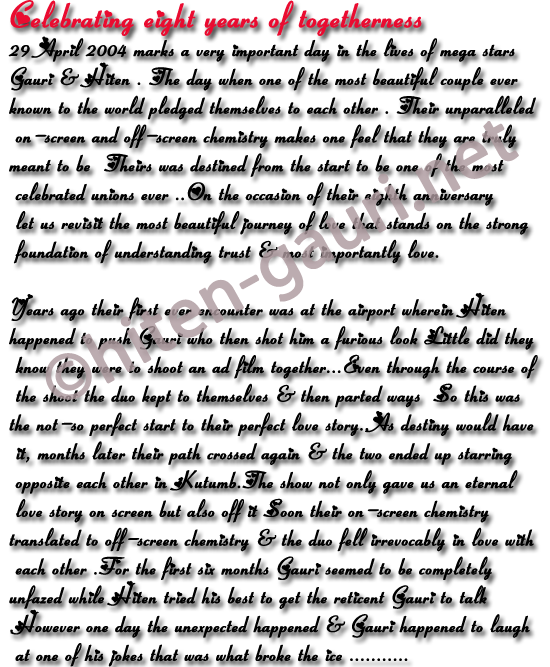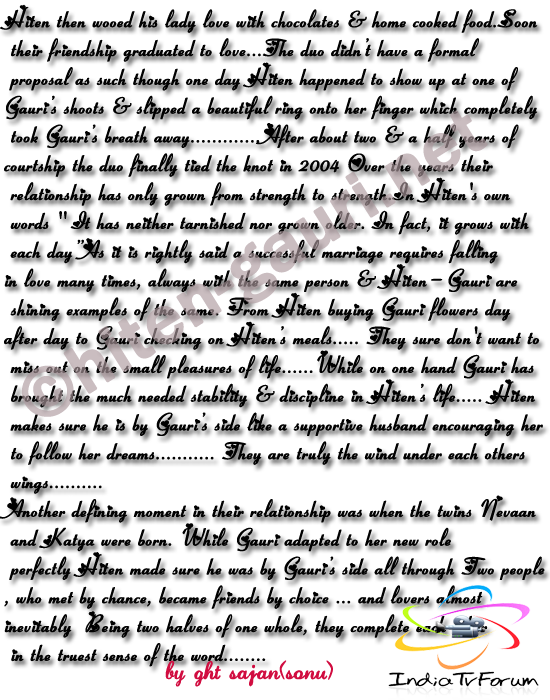 Additionally a videomix with messages for the couple from fans in a question-answer form:
To join in the full celebrations log in onto the following link:
http://www.indiatvforum.net/forum/viewtopic.php?f=76&t=34188
-Here's wishing them a blessed life of togetherness-
..Hi everyone…I know all of u have one question on ur mind..N the answer is M absolutely fine..don't worry…When I have so many of u lovely people to pray for me..what can happen to me…nothing…Thank u all for ur prayers n well wishes..
I sincerely thank u all for ur birthday wishes also…God bless u all…Thank u Swapna ji for ur lovely wishes..was pleasantly surprised n at the same time was very happy when I read it…U r the best….Sadar Pranam….
Lots of love n luck I have included a picture from my birthday… Enjoy…
Love,
Hiten and Gauri